I bet you didn't expect that! Well I didn't expect it myself either when I bought one last year on sale. I have always loved to read, and with a new baby, it was getting hard to go out to buy books. Finally I managed to go to my local library and borrowed a hard covered
A Dance with Dragons
(Book 5 of the Game of Thrones series). If you have read it, or at least seen it in a book store, it is a 1125 page brick... I mean book. It was extremely tiring to hold while reading let alone try to bring it with you while traveling. So that's when I decided I need to get an eReader!
Anyway, back to topic, so what make it the best personal item for a new mom? With a newborn, you spend a lot time nursing and rocking them to sleep. Those are the times when I find my eReader has really helped. There really is nothing more calming than reading a good book while nursing or rocking your baby to sleep. Especially during night time, when the room needs to be dark, and you don't really have the luxury of a night/book light, an eReader that has it's own light comes in very handy. The best part is I end up spending more time cuddling with my baby sleeping in my arms while I am reading. That period of time when I am reading in the nursery with a sleeping/nursing baby in my arms also became my personal down time which helped keep my mental health being in check. Sure, you can always play with your phone in the dark, but it's just not as serene, and the lighting of the phone is not as soft and can feel intrusive compared to a front lit eReader.
The eReader that I own is a
Kobo Glo
. I really like its small size, and it has its own front lit light. I have a hard book-style cover for it so that I can hold it like a real book. Unlike other eReader brands, you can borrow eBooks from the library (via
OverDrive
) and load them onto your Kobo. Best of all, it won't break the bank.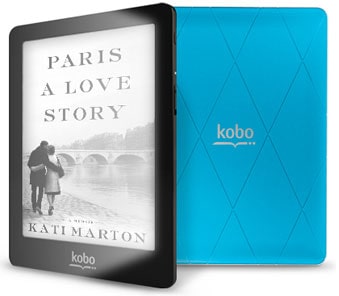 So here's my wobbles of wisdom. Go ask your husband to get you an eReader for Christmas, or why wait till Christmas, just get one now. I hope you will enjoy it as much as I do!